Farmersville, California Website Updates
When your web developer disappears or the agency you hired gets too big for you, we're here to help!
We offer session-based screen sharing to resolve issues with your website.
We accept payment via PayPal, debit or credit after the session ends.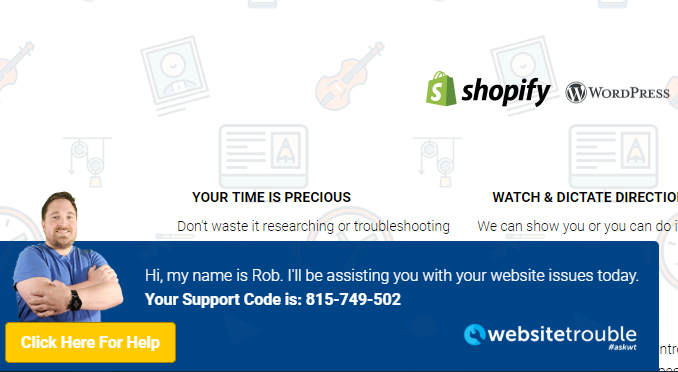 Introducing Site Buddy™
We're available 24/7 directly on YOUR website!
We have created Site Buddy™ to make it easy to integrate our support system into your business.
Think of it as a bat signal for our team to contact you!
We provide a snippet of code that allows you to securely access our team whenever you want through a combination of fully customizable keystrokes and a single click of a button.
The most common issues we encounter
My website is slow
Sick and tired of your slow website contributing to lost sales, leads and customers?
My website is hacked!
The good news: we can fix it within the hour! We charge $360 per year to backup, secure and clean your website.
Fix something broken
If you need help updating or configuring something with your website we're happy to help.
Website Monitoring
If your website goes down, we'll both know about it and work on resolving the issue immediately.
Website Updates
If you're using a CMS like WordPress we'll keep everything up to date (weekly) as well as resolve any issues encountered during the update process.
Malware Protection
Experiencing a malware attack is nobody's idea of a good time. If something happens and you DO get infected with malware, we'll have backups in place and we'll restore and/or clean the malware infection!
Speed Optimization
If your website isn't optimized continuously you could lose sales or potential leads because your website took to long to load on a desktop, laptop or mobile device.
Session Recording
If you don't know what people are doing on your website, how are you going to optimize anything? We'll setup analytics tools as well as device session recording so you can review exactly what a visitor does on your website. We can disable this at any time!